About Samik Rsi Prabhu
Samik Rsi Prabhu was born in 1945 in Madhya Pradesh, India in a Vaisnava family and given the name Shyam Sundar at birth. His parents raised him in accordance with the principles of Bhagavad-Dharma. During his childhood, they held recitations of Ramayan, Srimad Bhagavatam, Bhagavad-Gita etc.
During his college years, he was asked to deliver lectures on spiritual holidays such as Janmastami. He graduated from Gandhi Medical College, in Bhopal, Madhya Pradesh as a gold medalist—the top position of the graduating class.
He selected his first job in Mathura as a Civilian Medical Officer in the Army Ordinance Core. During this time, he visited many of the holy places in Vraja Mandala. During this time, he also traveled to Jagannath Puri and came across a Hindi version of Chaitanya Caritamrita, which he read with keen interest.
He immigrated in the U.S. in 1971, and within a year become connected with the ISKCON temple in Philadelphia. He was fortunate to receive the association of devotees such as Ravindra Svarupa Prabhu and Mother Saudmini who he regularly invited for home programs. During this time he began reading Back to Godhead Magazine and other books by Srila Prabhupada.
He shared Krishna consciousness with extended family members who also settled in the U.S. in subsequent years. Practically all have since become ISKCON devotees and many are initiated.
As a licensed medical physician, he took pleasure in attending to the medical needs of devotees from various parts of the country and hosting them at his home, as a service to the devotee community. A BTG article from 1980 discusses this small offering to Srila Prabhupada's family in greater detail.
His wife and him first met His Divine Grace Srila Prabhupada at the Henry Street Temple in Brooklyn, New York in April of 1973. They accepted initiation from His Divine Grace on Janmastami of 1977. They subsequently took brahmanical initiation from H.H. Satsvarupa Maharaja in 1979.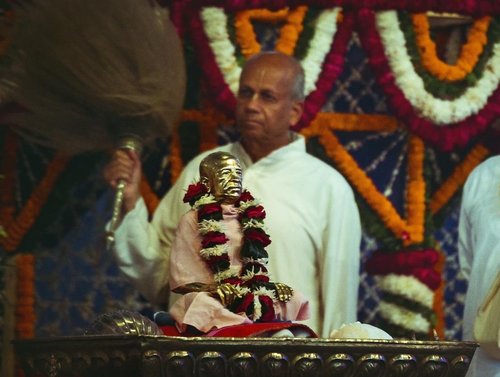 For the propagation of Krishna Consciousness they purchased a house for the Bhaktivedanta Institute and an office for Back To Godhead Magazine and donated the Radha Krishna deities to the ISKCON temple in Philadelphia in the early 80s. In the early 90s, they took the initiative to construct a new home for Sri Sri Radha Damodar in Gita Nagari.
He served as Temple President at ISKCON Towaco (New Jersey) from 1996-2010 and found land and began the construction of a new ISKCON Center for Northern New Jersey.
During the construction of Srila Prabhupada's three main temples in Vrindavan, Mayapur and Bombay, he donated seed funds. He has since strove to support ISKCON temples and projects throughout his devotional career, donating substantial funds to ISKCON Philadelphia, Gita Nagari, Towaco, Mayapur (TOVP) and other initiatives. For example, he hosted H.H. Bhakti Caru Swami and his entire 40-member film crew for Abhay Charan at his home for several months.
For the last few years, he has been spending most of his time in India. He started Every Town and Village Trust, funded by Samik Rsi Prabhu's own life savings and earnings to serve Srila Prabhupada and ISKCON in various ways. A few years ago, he embarked on a project called The Krishna Mini Temple in which he produced 3,000 "mini-temples" that included deities as well as a place for Srila Prabhupada's books. As he was born and raised in a village, he always had a keen desire to share Lord Chaitanya's sankirtan movement to the underserved areas of India. Thus far, hundreds of these mini-temples have been placed throughout venues in India.
Samik Rsi Prabhu has a desire is to take an international group of devotees and create a traveling sankirtan program of sorts to instill Krishna consciousness in the hearts of villagers of India—especially Madhya Pradesh, his hometown, where there is still plenty of preaching opportunity.
For the past several years, he has been serving Srila Prabhupada's mission as a traveling preacher visiting various places in India, various other countries and also regularly share Krishna-Katha on various conference calls. He is an initiating ISKCON guru.
Currently, Samik Rsi Prabhu's main focus is developing ISKCON Khargone (Nava Vraja Dhama), a 50 acre temple complex and community in Madhya Pradesh, India to serve the worldwide devotee community.